Televes SmartKom 531981, "Rotor Killer" Antenna Combiner/Preamp
Televes SmartKom 531981, "Rotor Killer" Antenna Combiner/Preamp
Back in stock! Shipping Today!
Setup note - to start the automatic programming process: Just press and hold the readjust/scan button for 5 seconds.

Need more than 3 inputs? check out the Televes AvantX, click here:  AVANTX
SmartKom 531981 is a high tech alternative to antenna rotors. Combine up to 3 TV antennas with automatic one button self-programming and filtering. Manual programming is also available via Bluetooth iOS/Android app if fine tuning is desired. No moving parts. Durable static installation. Built-in preamp with AGC (automatic gain control). Allows you to program multiple markets (transmitter locations) without re-aiming your antennas. Similar to the Avant X in a mast mounted affordable package. 
The individual filters have 60dB dynamic range to adjust all carriers to the same power, then the output is adjusted at 25dBmV fixed, maintained by AGC. Enough power to feed an entire house or small building.
SmartKom is a rotor alternative that allows to seamlessly combine up to 3 antennas pointing at different directions/markets.
SmartKom avoids the losses caused by combining antennas directly with splitters or combiners which translate in severe signal loss, co-channel, multipath, and phasing interference issues.
SmartKom individually and automatically filters the channels received from each antenna/direction.
SmartKom individually adjusts the levels of all the channels to the same optimum level for signal distribution in the house/building.
SmartKom filters out undesired out of band and cell phone LTE/5G signals that can cause interference.
SmartKom automatically scans the signals on each antenna and self-programs for ease of use.
SmartKom provides Bluetooth interface for advanced programming options when desired.
SmartKom provides access to up to three different markets on a single coax wire for whole-home signal distribution. 
SmartKom comes in a sturdy weatherproof mast-mounted housing and is powered directly over the same single coax wire that provides all the content to the house.
Rotor requires mechanical parts that are prone to failure > SmartKom is a static installation with no moving parts
Rotors requires a TV rescan every time the antenna is aimed at a different market > SmartKom delivers the content from up to 3 markets all the time, on a single wire.
Combining antennas directly causes loss of signal, for instance 3.5dB when combining two antennas, in addition to all the phasing issues created by each antenna undesired contribution to the combination > SmartKom allows to combine up to three different markets on a channel per channel basis with no loss
Combining antennas directly typically degrades performance due to the undesired markets still being picked up by each antenna > SmartKom filters the channels received from each direction avoiding undesired contributions to the final combined signal.
Combining antennas generates signal loss and further amplification is required > SmartKom provides the amplification needed to distribute the signal to the entire house.
SmartKom will automatically power Televes antennas and preamps, or other 12Vdc loads inline.
When installed close to passive antenna(s) SmartKom avoids the need for a preamplifier.
Also recommended for single antenna installs for better reception equalizing all channels to the same level for distribution. Avoiding overload of strong channels and losing weak channels
Compatible with existing HDTV signals and the newer UHD 4k stations (aka NextGen TV / ATSC 3.0 / ultrahigh definition).  
After the automatic programming process, if manual tweaking is necessary, connect to the power supply using Bluetooth and the Televes ASuite app on a smartphone or tablet. The ASuite app is available on Google Play or the Apple App Store.
click here for the SmartKom Abbreviated Manual (included in the box)  

click here for the SmartKom quick start guide  
Click her for Full Manual & Spec Sheet
keywords: Smart Kom com comm AvantX Smartcom
View full details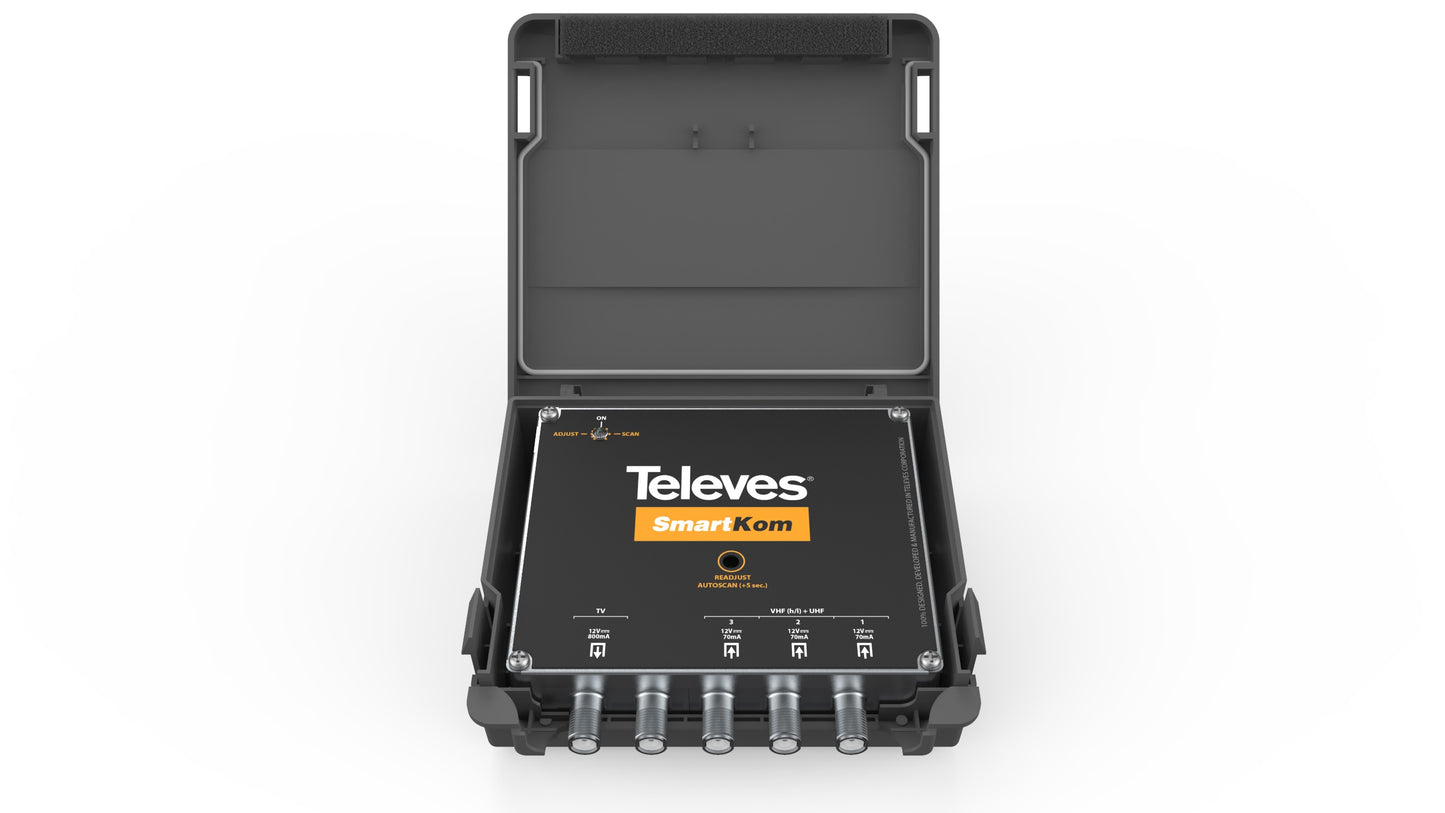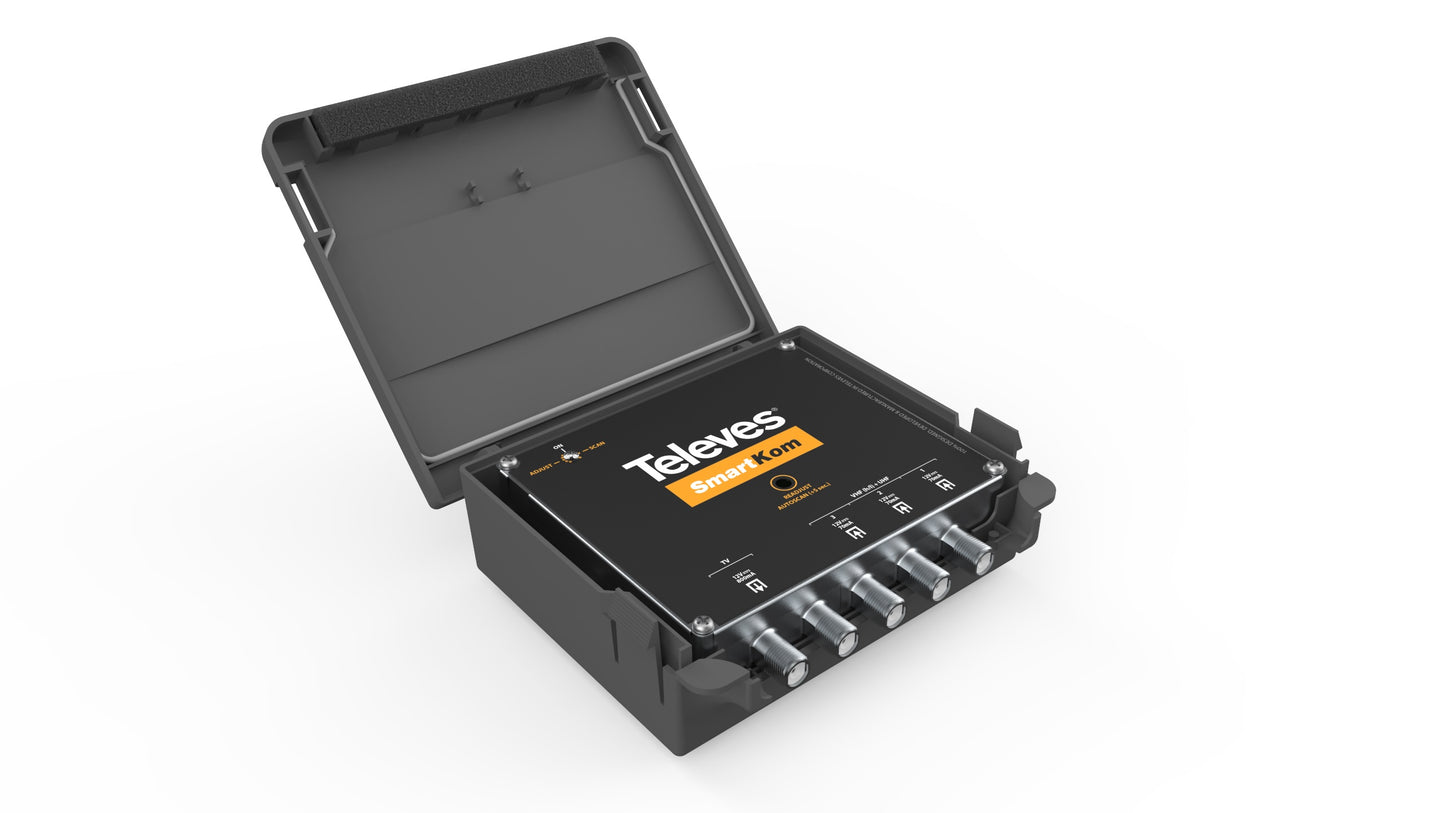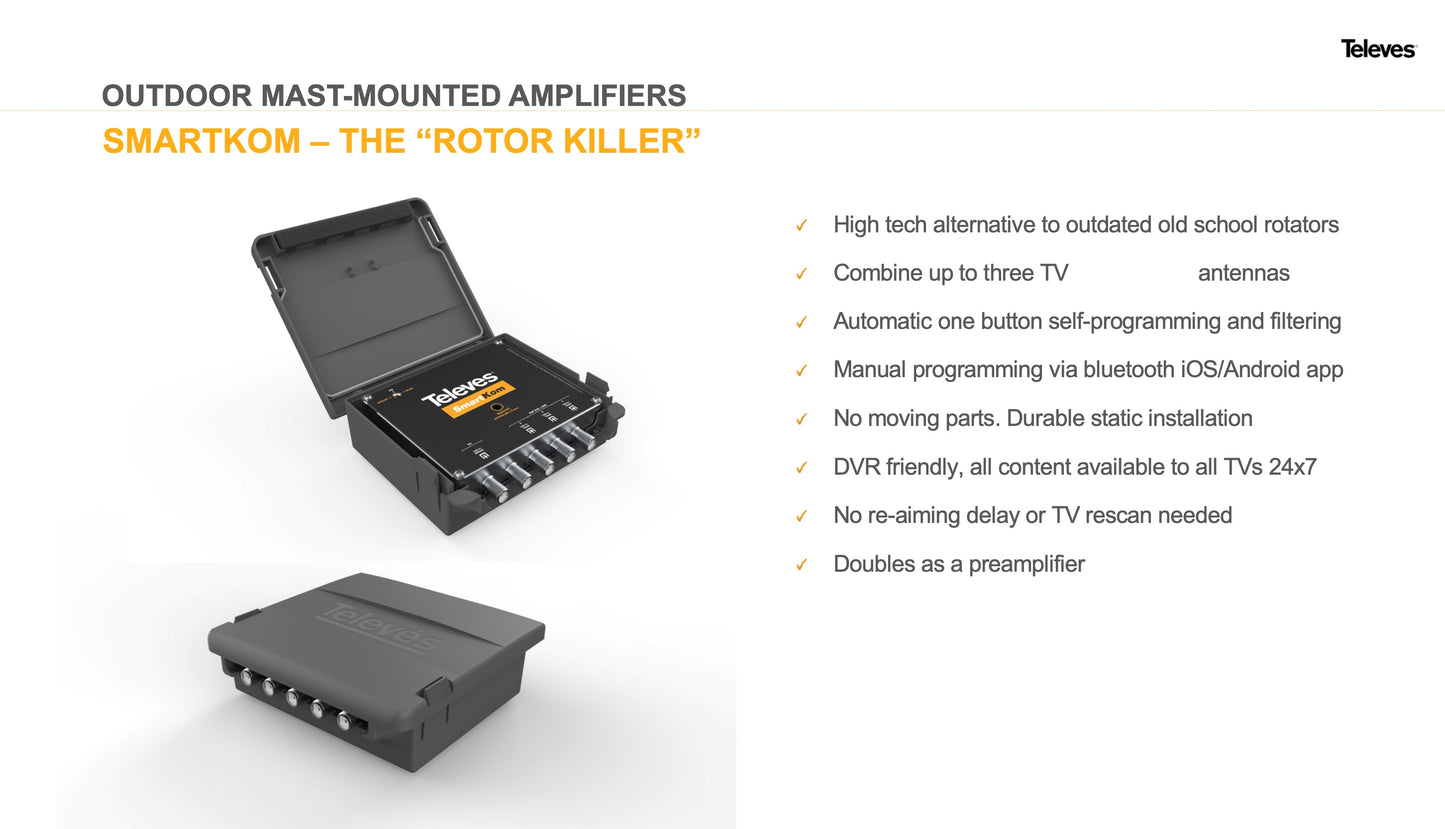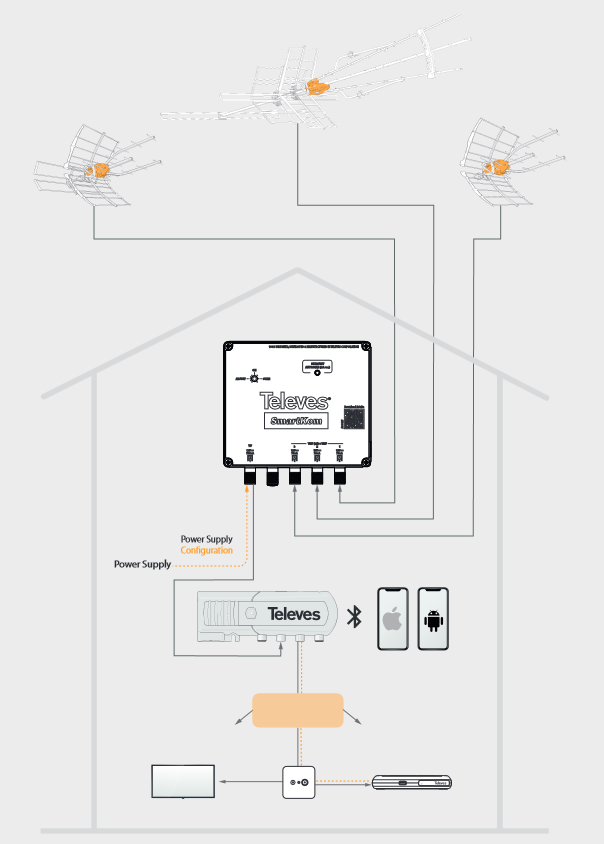 Televes SmartKom 531981, "Rotor Killer" Antenna Combiner/Preamp